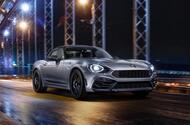 A coupé Abarth 124 isn't happening, but the 124 gets a carbonfibre removable hard-top and exclusive parts
Abarth has revealed the 124 GT ahead of its official unveiling at the Geneva motor show next week.
The GT gets a removable hard-top roof, made of carbonfibre and weighing 16kg, is lined on the inside, although has to be stored separately when not in use, unlike the Mazda MX-5 RF's folding hard-top.
The hard-top roof adds rigidity to the car's chassis, although Abarth hasn't specified by how much. The roof's carbon fibre construction is a market first, though. It's equipped with de-misters in the rear window, insulation and soundproofing, though.
It also gets exclusive parts like lightweight OZ alloys, which shave 3kg off the standard Abarth 124's kerb weight, and tweaked styling. The standard 124 weighs 1060kg, so the GT weighs 1073kg
Performance is unchanged – the same 1.4-litre turbocharged engine gives 168bhp and 184lb ft of torque, equating to unchanged acceleration to 62mph in 6.8sec and a 144mph top speed.
Abarth remains tight-lipped on when the 124 GT will arrive in the UK, but sales are expected to commence before the end of the year. It's likely to command a small premium over the standard 124. Abarth charges £2300 for the automatic gearbox on the 124, so the GT could start at around £32,000.
Abarth is keeping quiet on the finer details ahead of the car's official Geneva motor show unveiling, but the 124 range topper is likely to make up only a small portion of sales.
Read more
Rally test: Abarth 124 Rally driven
Honda Civic Type R vs Abarth 124 Spider: which is best?
Source:: Autocar
Share and Enjoy