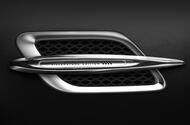 Due at the Geneva motor show, new grand tourer will have harder look, over 600bhp and will be handbuilt at Silverstone base
David Brown Automotive (DBA) will reveal the Speedback Silverstone Edition as its new high performance Grand Tourer model at the Geneva motor show with what it describes as a "more aggressive" design language.
The company has released images of the car's badges and side vent bearing its name at this stage with a promise that it'll "capture David Brown's vision of a high-performance classic Grand Tourer", suggesting its look will be more focused on illustrating its performance, with retro motorsport and aeronautical influences. A power output of over 600bhp is claimed by the company.
The car will join the classically styled Mini Remastered, which was launched last year, and the Speedback GT in David Brown's line-up, on which the Silverstone Edition is based. Like those cars, it will be handmade at the company's Silvertstone headquarters using traditional build techniques. Only ten will be produced.
"This is something that we've been looking forward to doing since launching the Speedback GT and I can't wait to reveal more," said David Brown, company founder and CEO.
"With its unprecedented levels of performance, this vehicle allows the David Brown Automotive brand to appeal to our existing customers – and new customers alike. The car brings yet another exciting opportunity for our company."
David Brown's Geneva stand will feature the first customer examples of its Mini Remastered. The Mini sells from £70,000 while the Speedster GT that came before it starts at £600,000, suggesting the Speedback GT could command something between those figures.
Such is the level of customisation on offer from DBA that no two models leave the brand's build site in the same specification. As such, prices can vary by vast sums – the Mini Remastered Autocar tested last year featured £29,000 worth of extras on top of its base price.
More content:
Singer and Williams reveal 493bhp restored Porsche 911
McLaren to usher in new breed of hybrid and autonomous cars
Source:: Autocar
Share and Enjoy