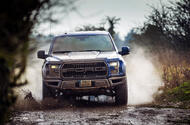 The world's best-selling vehicle, the Ford F-150, is is too big by far for your average British road. Undaunted, we try one for size in the Cotswolds
What is it the politicians like to call it – the 'special relationship'? That shared set of values that supposedly bonds Great Britain and the US.
They would have you believe our two nations are really one and the same. Same political ideologies, same cultural tendencies, same social make-up. Separated by the Atlantic Ocean and precisely nothing else.
And yet, if you ever saw the US's best-selling car, the Ford F-150, parked in a movie set-picturesque Cotswold village – vast knobbly tyres pressing heavily into ancient cobbles, vibrant paintwork and bright orange running lights positioned as abruptly against sandstone brickwork as graffiti on marble – you'd think we had nothing at all in common but the planet on which we live.
For all that they seem completely absurd in an English village, though, Ford's F-Series trucks are nothing short of a phenomenon in North America. Last year, 896,764 of them were sold globally, the vast majority of those staying within Canada and the US. The F-Series range also includes the F-250 and F-350, right the way up to the gargantuan F-750, which is the sort of thing you'd use to tow a stack of felled redwoods. But most of the trucks Ford shifted last year were F-150s, just like this one. In fact, the F-150 isn't just America's favourite car – it's the best-selling vehicle in the world, full stop.
Amazing, really. It's like a party that we Brits haven't been invited to. You can't buy an F-150 in the UK through official channels but, if you were really determined, you could import one yourself. You could even find somebody to convert it to right- hand drive, after which you'll have spent close to six figures. Which kind of begs the question: what is the US's favourite car like to drive in Britain?
This isn't just any F-150. It's the F-150 GT3, although Ford prefers to call it the Raptor. But like a Porsche 911 GT3, the Raptor has been completely overhauled and re-engineered, given much more power and kitted out with trick suspension components. It has all the single-minded purpose of a 911 GT3, only for a very different sort of task.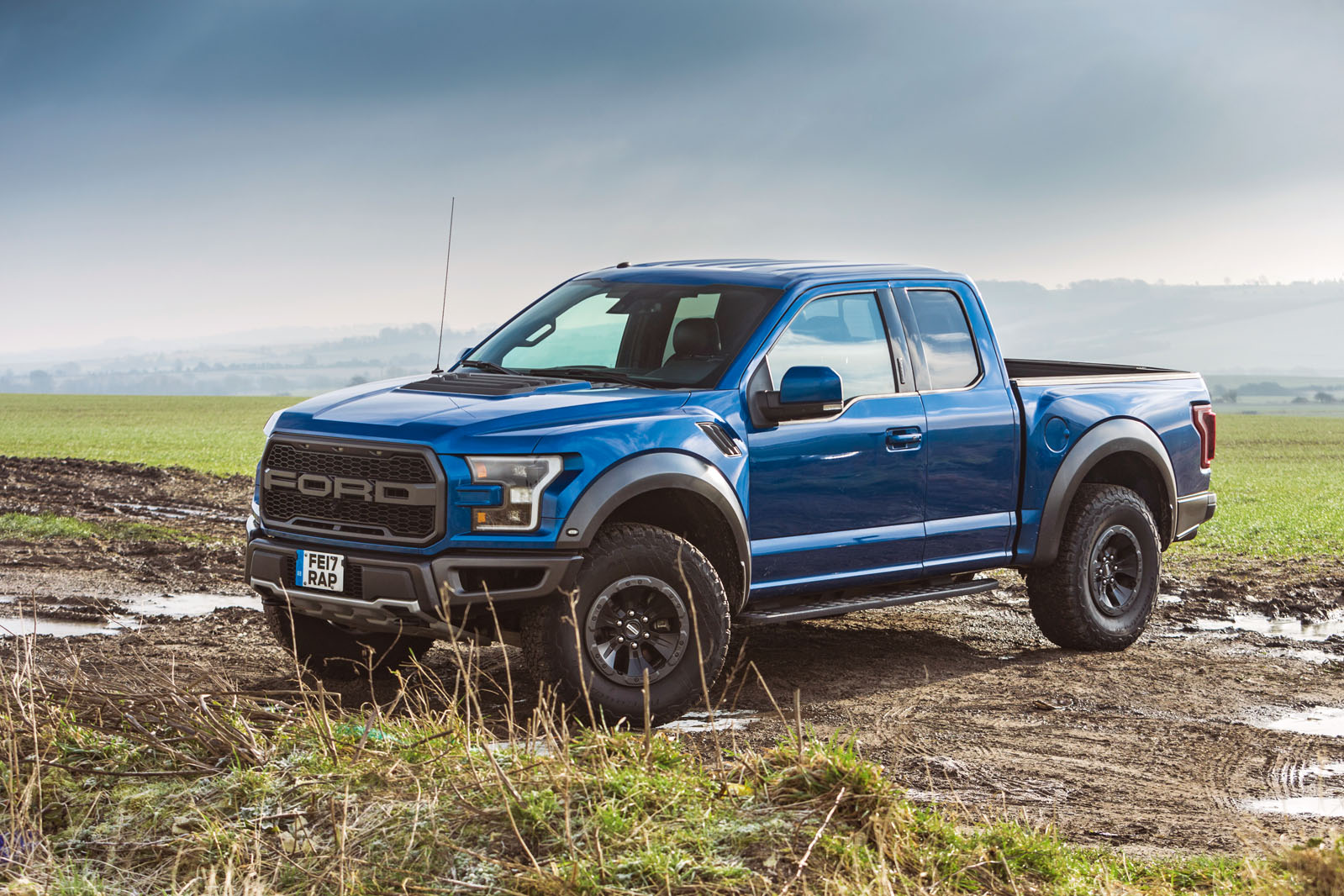 Compared with the previous Raptor, this latest model is lighter by more than 200kg, thanks to the use of aluminium throughout the body rather than steel. It still weighs 2500kg, though. Sitting on huge Fox dampers and springs big enough to crawl through, the Raptor has more ground clearance than before and more suspension travel. In fact, each rear wheel can be compressed almost 14in into its arch before hitting the bump stop, which itself is hydraulic, so when you do run out of travel it doesn't happen so violently.
Gone is the old 6.2-litre V8, replaced by, of all things, a 3.5-litre V6. That's like taking Mike Tyson's boxing gloves and replacing them with woollen mittens, and it's the sort of thing that could spark protests in some states. Except, of course, this is a twin-turbo Ecoboost engine that's actually torquier and more powerful than the outgoing V8. Peak power is 444bhp, with torque rated at a massive 510lb ft.
Perhaps the most remarkable thing about the Raptor, however, is the cost of it. In the US, Ford's suggested retail price is a shade over $50,000. That's less than £36,000. Never mind the high-spec componentry and heavyweight engineering; that's good value for money just for the sheer quantity of metal, glass and plastic you're getting. Build enough of something and you really can give it away for pennies.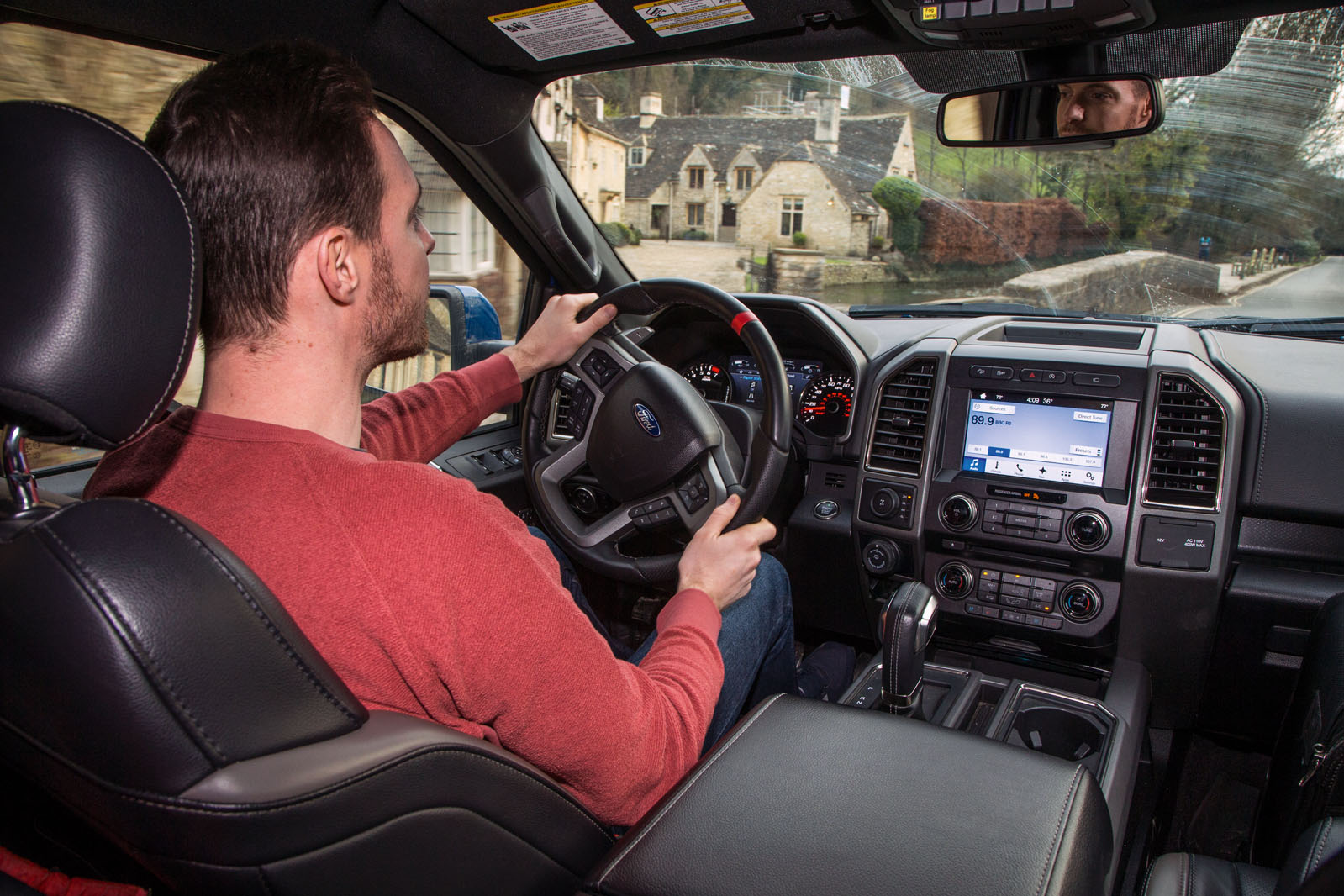 Rarely has a car looked as out of place as a Raptor in the English countryside. It's the size of the thing. Its bonnet is as high as most cars' rooflines. The front wishbones look like deckchairs. You can actually learn a useful amount about the Raptor just by driving somewhere in its vicinity.
From behind on a typical British B-road, you'll see the wheels on the left side nudging up against the mud verge while those on the right roll over cat's-eyes. It just doesn't fit. And when you see it in your rear-view mirror, it looks so tall and so wide, and the front-end styling is so aggressive, that you would swear its driver was furious with you. Even from a respectable distance behind, the Raptor looks hostile, with a gaping snout so huge you fear it might swallow you and your car whole, or perhaps just drive right over the top of you.
Soon enough, you're desperate to drive it yourself. Climb into the driver's seat and see how everything inside is to scale. The oversized gearlever and big, toy-like buttons. The cubbyhole in the centre armrest that's big enough for a crate of beer. But somehow – hilariously – rear leg room is actually quite tight. From up here, at this altitude, you look down on a Ford Ranger, the pick-up the Blue Oval actually does sell in the UK, like it's something you would give your small child at Christmas.
With the steering wheel slung out on the left and the other side of the car such a long way off, you make steady progress at first. The steering itself is no better than adequate, so you continually make tiny corrections to keep the Raptor on its side of the white line. When anything bigger than a family hatch approaches, you involuntarily breathe in and wince, waiting for the impact.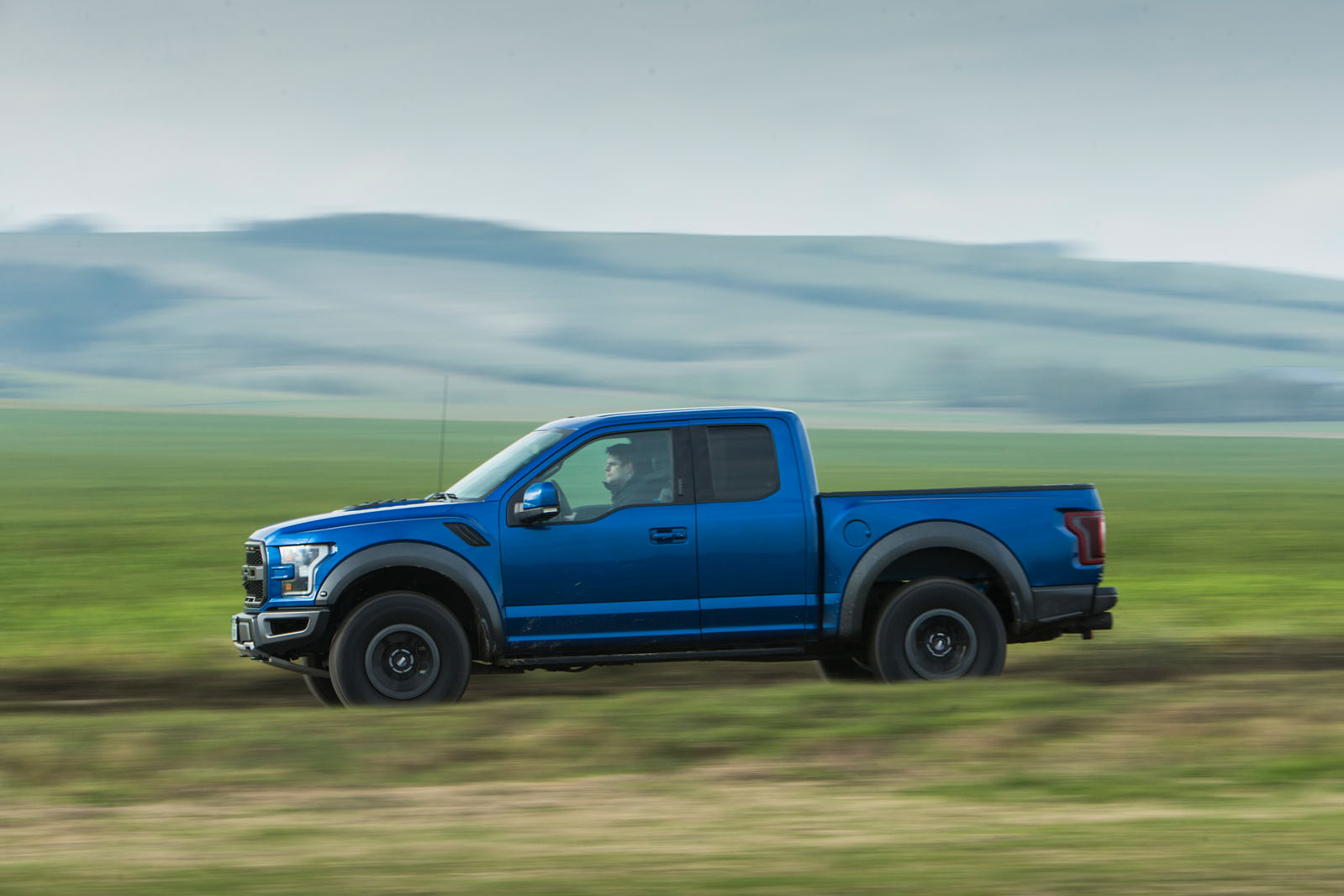 But you get used to it. So you drive a little quicker. This car is built for racing through deserts. That's why it has a Baja driving mode, complete with a little graphic that depicts a desert scene with a chequered flag. So you know it's tough. But every time you rattle over a rough section of asphalt or through a pothole, the entire structure around you shudders …read more
Source:: Autocar
Share and Enjoy