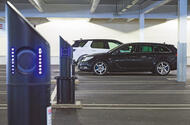 From 12 November, only electric cars will be eligible for a £3500 subsidy, £1000 less than before
The government is abolishing the plug-in car grant, in place since 2011, for all vehicles other than pure electric cars or those that can offer more than 70 miles of zero-emission range.
Currently, electric cars or those that can travel on 70 miles of electric (called Category 1) receive a £4500 subsidy towards the cost of the vehicle. Category 2 and 3 cars, typically plug-in hybrids, receive £2500.
In the revised system, which will begin on 12 November, plug-in hybrids will no longer receive any support and the Category 1 subsidy will be reduced to £3500. The government said the decrease reflected "the recent reductions in the price of electric vehicles"
It said that it would support the next 35,000 electric cars sold, but did not elaborate on longer term plans to encourage ultra-low emission vehicles.
In its announcement, the government said it "has helped the plug-in hybrid market become more established, and the government will now focus its support on zero emission models like pure electric and hydrogen fuel cell cars".
It claimed it has helped support the purchase of over 160,000 cars since 2011.
The statement added: "With plug-in hybrid models like the Mitsubishi Outlander becoming popular among consumers the government is focussing its attention to zero emission models such as the Nissan Leaf and BMW i3."
The news is expected to welcome fierce criticism from the industry, with long-held fears that the removal of a subsidy will mean that alternative-fuelled vehicles sales will crash.
Year-to-date, alternatively fuelled vehicles make up 6% of the UK car market or 114,574 cars. However, electric vehicles make up a very small minority of that number.
Source:: Autocar
Share and Enjoy