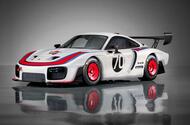 Porsche 935: you'd better buy a lottery ticket
Porsche's latest limited-run, track-only special isn't doing anything for Prior
Conflict: I like the new Porsche 935.
I like its looks. That it's retro, with cues, colours, shape, name – very obviously – pulled from the 935/78 'Moby Dick' race car from 1978. I like that it's not just another 'recreation' of an old car. It's new.
I also don't like the new Porsche 935. Because it's a 911 GT2 RS with a massive carbonfibre composite bodykit. That you can't drive on the road. Honestly, what's the point?
The point is a celebration of Porsche's 70 years, during which it has amassed a racing heritage like perhaps no other car maker on the planet. The 935 is among the most successful of its racing cars. This isn't one of them. It's a pastiche, a copy, an ornament. Literally claimed by its maker to be a 'present to all motorsport fans'. It's a bauble.
Porsche unveils reborn 935 race car
But what a bauble. There are few companies that you'd trust to put together an exquisitely finished limited-run production car like this, and one of them is Porsche. Standard production pieces have been carefully grafted and crafted around new, bespoke parts made by hand from unobtanium.
Which is why it costs an absurd £750,000 after tax and they're only going to make 77 of them, thus creating the worst kind of awful please-sir-me-sir consumptive bunfight among billionaire collectors apparently desperate to part with their money; the kind of awfulness that defines so much of what's wrong with the world today.
None of that, though, is the fault of the car: it's just a car. A cool-looking, fast car that is likely terrific to drive.
Not that anyone will ever know. Because it's not a race car. Worse, it's not a road car, either, and unlike some of those other gauche recreations, I doubt you'd get it through individual vehicle approval either, owing to the lack of headlights and all that.
Still, a regular 911 GT2 RS isn't much of a road car either. Sure, you can use it to get from your house to a race circuit , and drive it quickly on the autobahn, and get a bit of feel out of the steering, but so ludicrous are its capabilities that you'll never need its 690bhp performance on the road. It, and this, are track cars.
Yet the new 935 doesn't even have any more power or capability than the GT2 RS. For £750,000, they can't even be bothered to turn up the wick on the 3.8-litre twin-turbocharged flat six, because that would require too much effort, despite the fact that this project will be worth about £50 million in revenue.
Yes, the car will be beautifully put together, but they are taking the mickey. And yet they have the nerve, the audacity, the temerity, to label it as a 'clubsport race car', and a 'single-seater near-standard non-homologated race car', when it is actually no such thing.
But so what? What do I care? I'm not going to buy one anyway, and wouldn't if I could. So what's it got to do with me? Just appreciate it for what it is. It is, after all, just a car. Like it for being that. For being a 911 GT2 RS+ in Martini livery.
The feeling I can't shift is that, for all that, there's a cynicism to this project. The ambitious, celebrative customer limited-edition car I really want Porsche to make is a road-going 919 Evo.
And both sides of me agree with that.
Read more
Porsche unveils reborn 935 race car
First ride: Porsche 911 2019 prototype
Source:: Autocar
Share and Enjoy