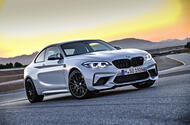 New M2 has a more aggressive-looking design than before
M's refreshed entry-level coupé squares up to the Porsche Cayman GTS with a new M4-sourced 404bhp engine and a retuned chassis that's set up to be more driftable
BMW's M division has ramped up the performance potential of the M2 with the introduction of a heavily upgraded version of the rear-wheel-drive coupé.
The 2018 model, which is called the M2 Competition, replaces the standard M2. It packs a new 404bhp version of the twin-turbocharged 3.0-litre six-cylinder engine that powers the M3 and M4. This enables a sharper 0-62mph time of 4.2sec in combination with an optional seven-speed dual-clutch gearbox.
The top speed is governed at 155mph. The new M2 has been conceived to enhance the standing of the two-year-old performance coupé against rivals such as the Porsche Cayman GTS and Audi TT RS. As a result, the M2 Competition not only receives an injection of extra performance but also adopts a number of subtle chassis changes.
BMW M division's head of development, Dirk Häcker, said the chassis revisions provide the new M2 with "significantly improved response and more progressive on-the-limit characteristics" than its predecessor. "We have altered the steering mapping, changed the spring and damper tuning and recalibrated the DSC [Dynamic Stability Control] system as well," said Häcker. "It is still the benchmark in its class in terms of response and reactions, but it now slides with greater progressiveness and enthusiasm."
Opinion: Why BMW decided to raise the bar with its M2 Competition
Power for the new M2 comes from a detuned version of BMW M's S55 engine, as used by the M3 and M4. In the M2 Competition, the twin-turbo 3.0-litre unit delivers 404bhp between 5250rpm and 7000rpm and 405lb ft from 2350rpm to 5200rpm. This represents increases of 40bhp and 62lb ft over the original M2's turbocharged 3.0-litre six-cylinder N55 engine, but it's 21bhp less than in the M3 and M4, albeit with the same torque. It also means the M2 Competition has 44bhp and 95lb ft more than the turbocharged 2.5-litre four-cylinder Cayman GTS.
The M2 Competition's kerb weight is 55kg heavier than the old M2's at 1550kg in six-speed manual guise, largely due to the engine. Despite the added bulk, its power-to-weight ratio has risen by 17bhp per tonne over its predecessor to 261bhp per tonne. Drive is channelled through the same standard six-speed manual and optional seven-speed dual-clutch gearboxes as today's M2.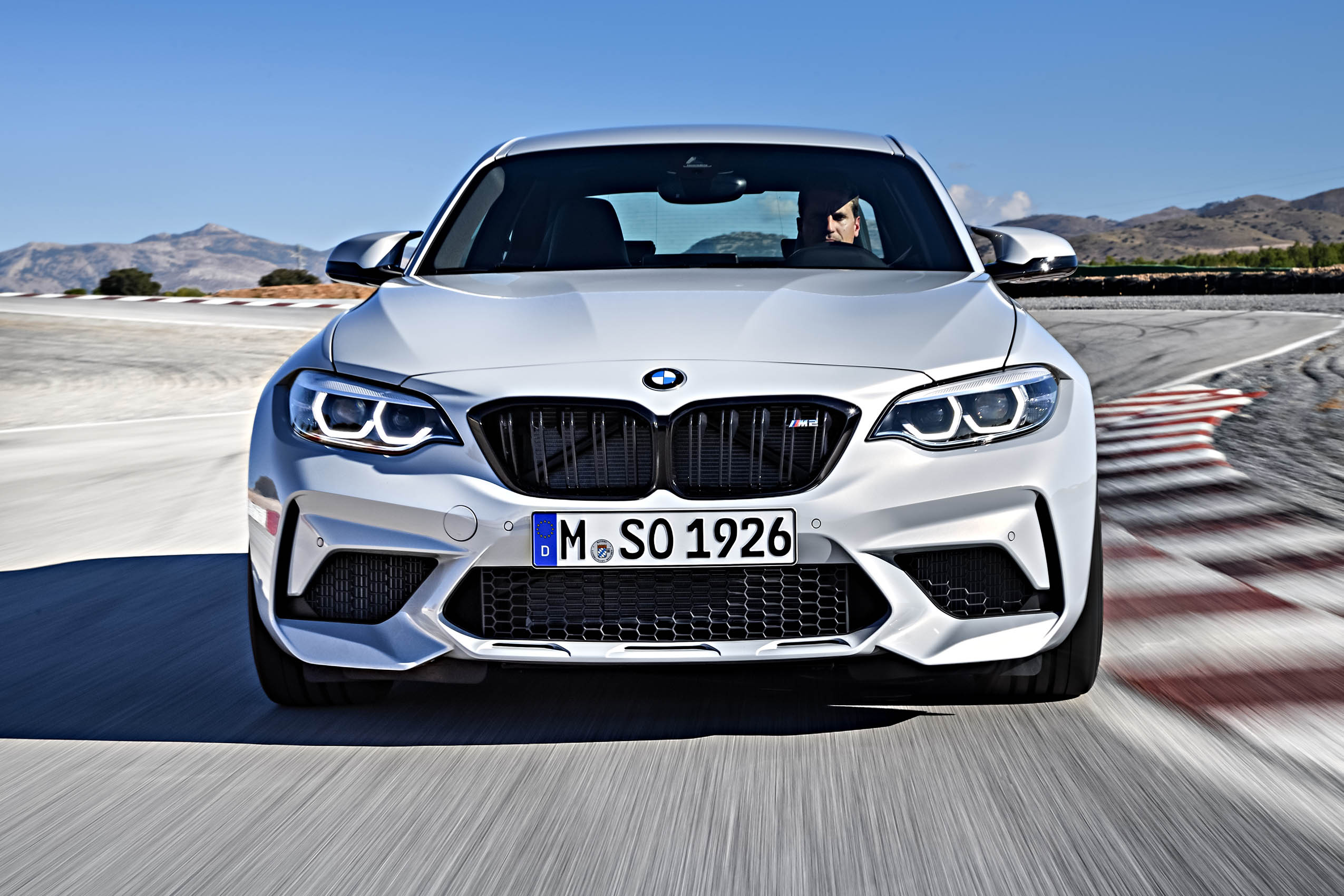 They retain the same ratios as before and operate in combination with an electronic limited-slip Active M Differential, which provides a locking effect to the rear wheels of between 0% and 100% depending on the prevailing traction, yaw rate and steering angle, among other factors.
In anticipation of strict new CO2 emission guidelines, BMW M has given the engine a particulate filter. It is a development, Häcker said, that will also be adopted during running changes planned for the four-year-old M4 later this year (as scooped by Autocar in February).
As a result, the new M2 emits 225g/km of CO2 and averages 28.5mpg in manual guise and 209g/km and 30.7mpg with the dual-clutch gearbox fitted.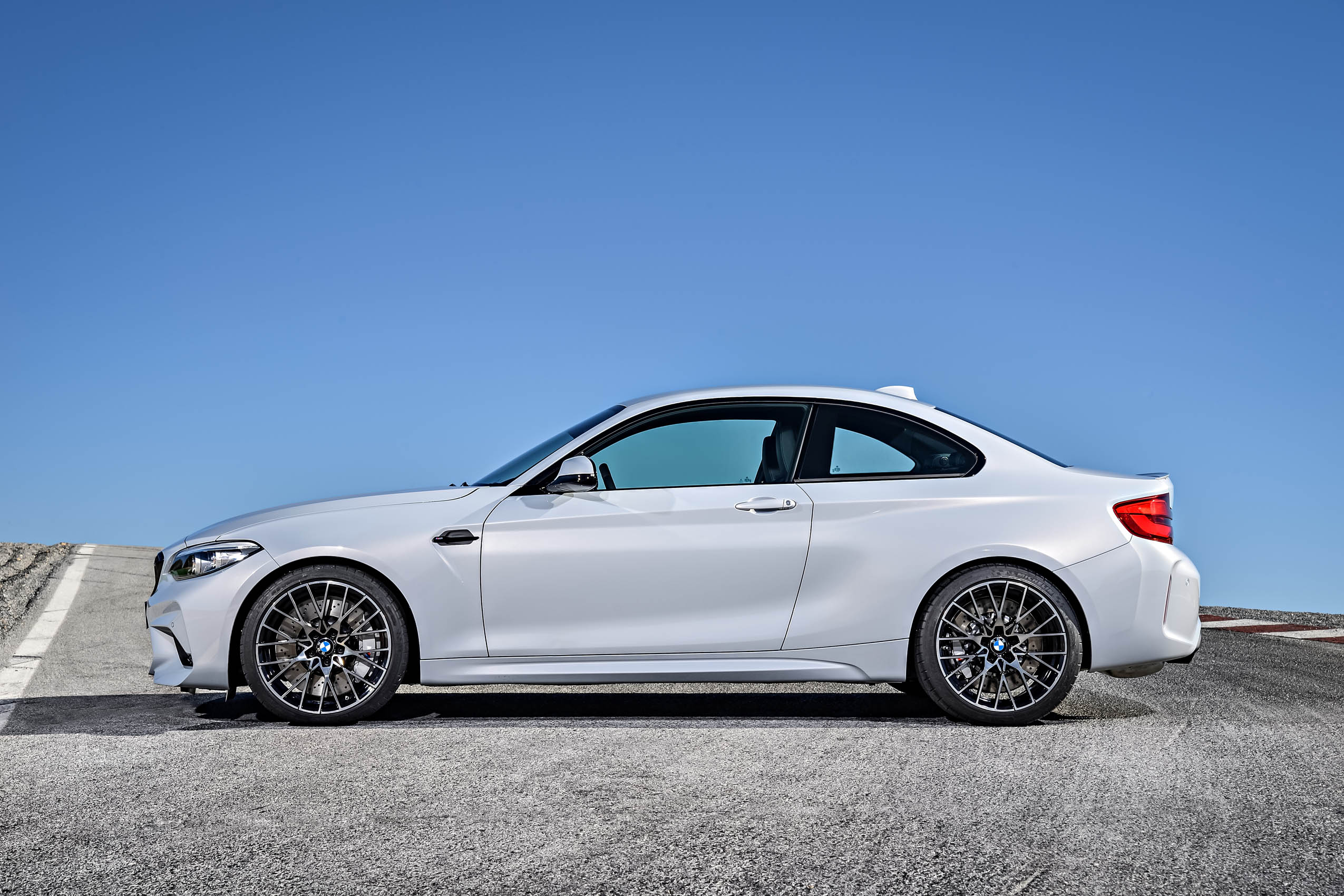 The particulate filter forms part of a new dual exhaust system that replaces the single routing on the outgoing M2.
It features two electronically controlled muffler flaps actuated via an M dynamic performance control function to enhance its sound.
BMW's performance claims for the M2 Competition point to a 0-62mph time of 4.4sec for the standard manual version and 4.2sec for the dual-clutch model. Both achieve a top speed governed at 155mph, but this can be raised to 174mph with an optional Driver's Package.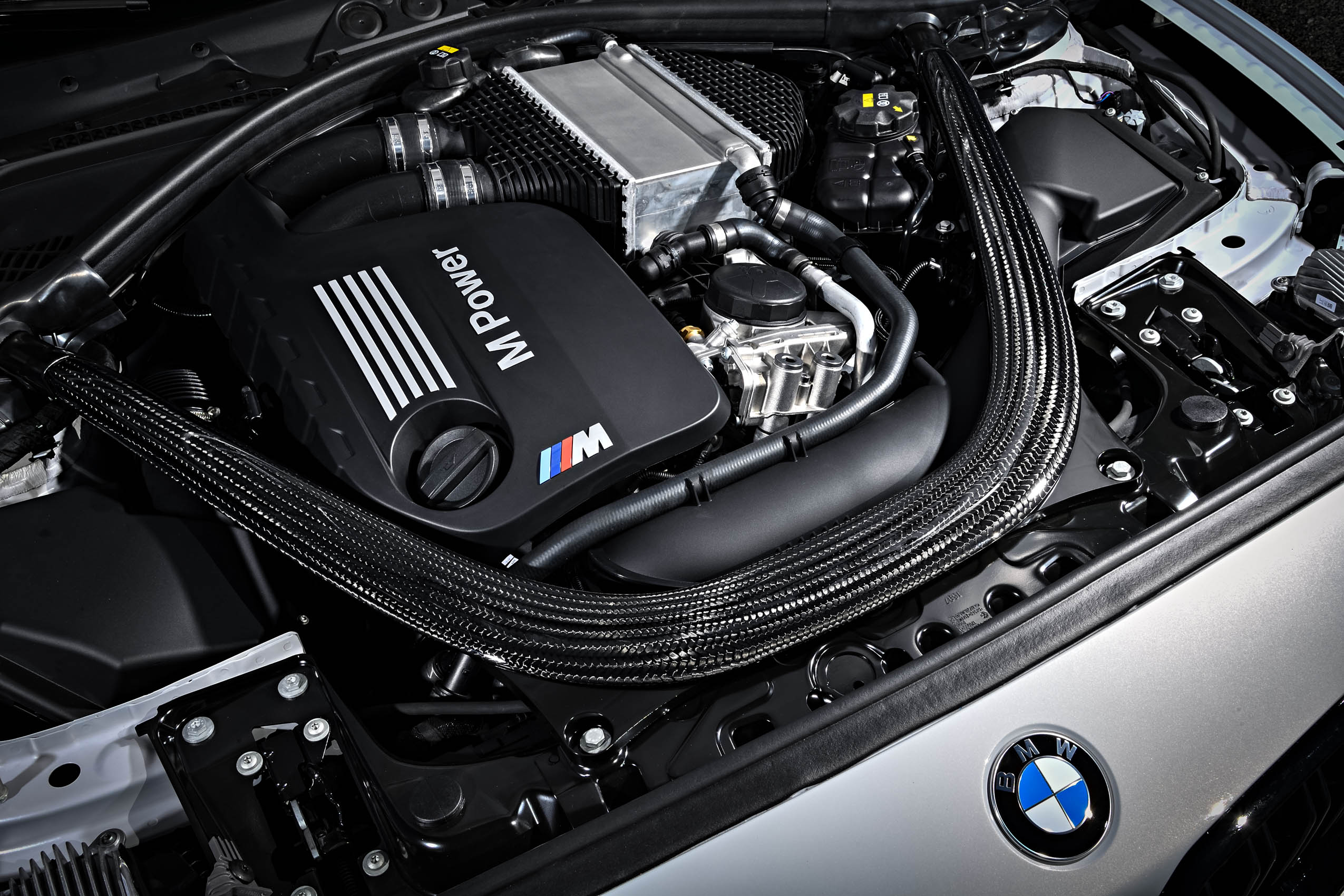 By comparison, the older M2 has a claimed 0-62mph time of 4.5sec for the manual and 4.3sec for the dual-clutch version. The Cayman GTS covers 0-62mph in 4.6sec in six-speed manual form and 4.3sec with its optional seven-speed dual-clutch gearbox.
To accommodate the new engine, BMW has re-engineered the M2's front end, providing it with an extra radiator as well as a new boomerang-shaped carbonfibre-reinforced plastic strut brace. The changes are claimed to offer significantly greater stiffness and added steering precision.
Taking advantage of the added stiffness, BMW M has altered the steering mapping. "The focus is on additional on-centre response," said Häcker. "We've improved it a lot."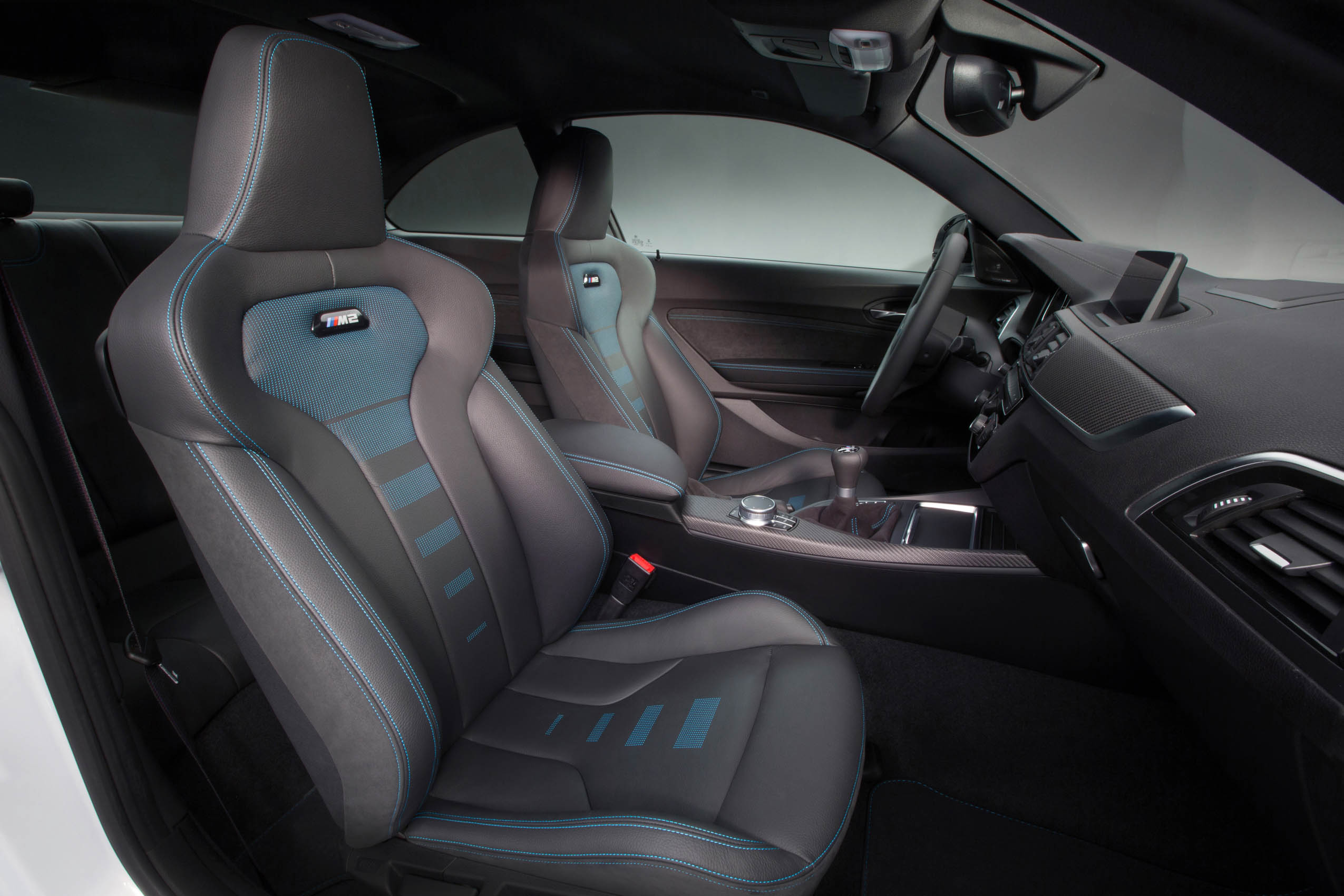 Further changes include an optional brake package. This replaces the standard 380mm front and 370mm rear discs and four-piston front and two-piston rear calipers with 400mm front and 380mm rear discs allied to six-piston front and four-piston rear calipers.
The differential has also been upgraded with new software that, Häcker said, has allowed vital changes to the DSC system via a new MDM (M Dynamic Mode) activated in the Sport+ driving mode. "It now intervenes later, allowing greater oversteer and more controlled drifts. However, the DSC can still be relied upon in critical situations," he said.
The M2 Competition adopts a number of styling changes that give it a more aggressive appearance and address the new engine's need for improved cooling efficiency.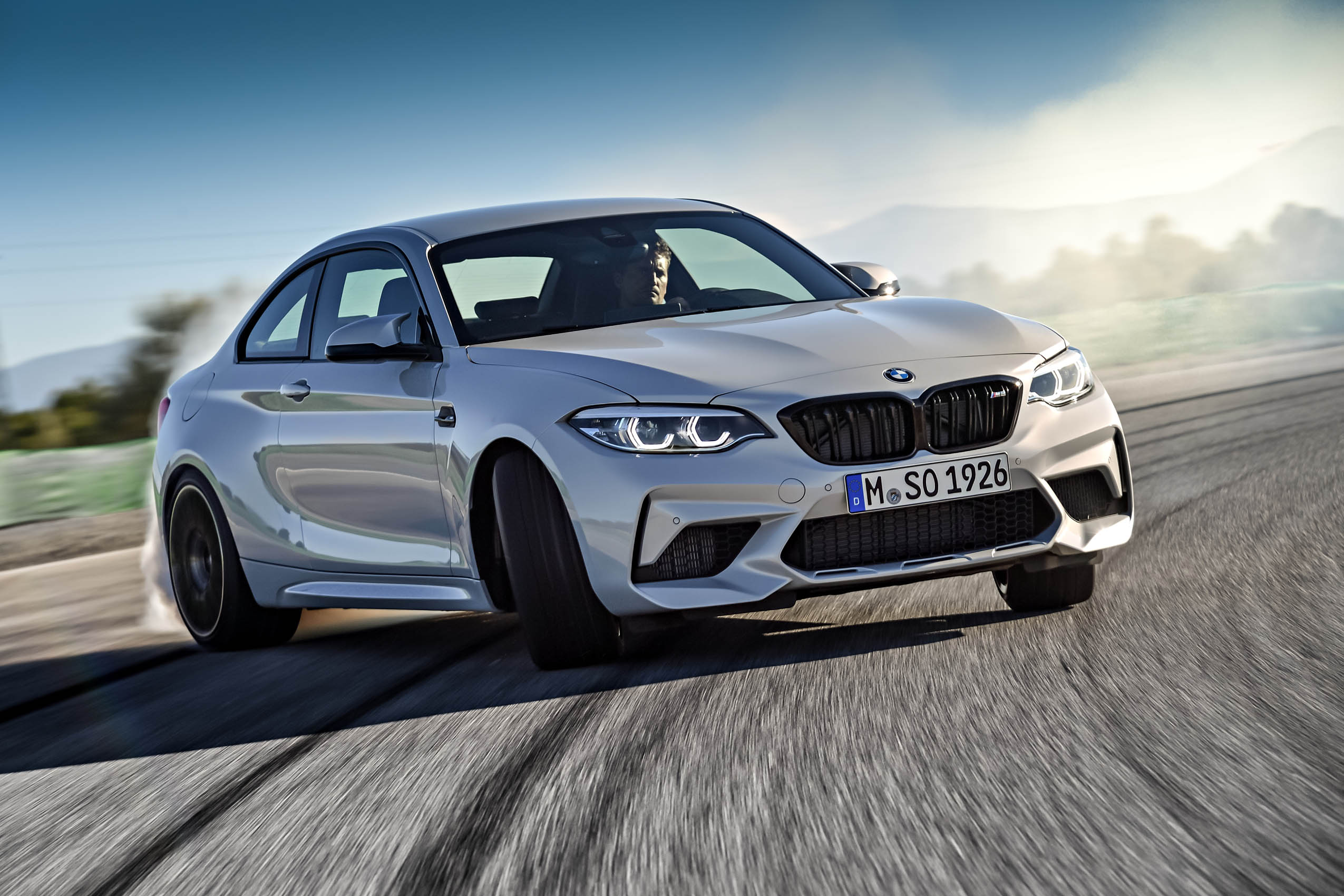 Up front, there is a more heavily structured bumper with larger cooling ducts, a redesigned kidney grille and more advanced headlights, which have an adaptive LED function as standard.
Other visual changes include new M-style exterior mirror housings similar to those on the M3 and M4 as well as lightly reworked tail-lights, an altered rear bumper and, as standard in the UK, new 19in forged alloy wheels shod with 245/35-profile (front) and 265/35 (rear) Michelin Pilot Sport tyres.
Inside, the M2 Competition is differentiated from the outgoing model by a number of subtle changes. Included as standard on UK models are new M Sport front seats, reconfigured M instruments, M seatbelts in various colours, the M Drive manager function from the M3 and M4, Park Distance Control and a red start/stop button.
The M2 Competition costs £49,285 in manual form and £51,930 in dual-clutch guise, compared with the £46,740 starting price of the outgoing M2. First deliveries in the UK will begin in August.
<iframe allow="autoplay; encrypted-media" allowfullscreen="" frameborder="0" …read more
Source:: Autocar
Share and Enjoy