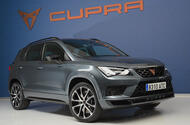 Seat's new stand-alone performance brand, Cupra, has revealed its 296bhp all-wheel-drive version of the Ateca
Hot Ateca launches Seat's stand-alone performance brand, with prices starting from £35,900
Seat's new stand-alone performance brand, Cupra, has announced pricing and spec details for its hot Ateca SUV. The all-wheel drive performance model starts from £35,900, with deliveries due early next year.
The headline price gets you a 296bhp 2.0-litre turbo petrol engine mated exclusively to a seven-speed dual-clutch transmission. Standard kit includes keyless entry and start, an eight-inch touchscreen navigation system, park assist and a wireless phone charger, while metallic paint with a choice of six shades is thrown in.
The price is also inclusive of the Cupra Care service and maintenance package, including three years of servicing, European roadside assistance and the car's first MOT.
The Cupra Ateca is part of a broader offensive to offer Cupra versions of some Seat models as well as, eventually, Cupra-only cars. Seat is trying to copy the example of in-house performance divisions like Renault Sport. It will launch seven models by 2020 as part of aggressive growth plans.
Cupra could get electrified powertrain tech before Seat
While the initial models will be reworked versions of current Seat machines, with Cupra Ibiza and Arona models likely in 2019, the firm hinted that it could introduce standalone Cupra models in the future, as part of plans to use the brand as a technological figurehead.
Q&A: Seat boss Luca de Meo on Cupra's future
The brand's sales and marketing boss Wayne Griffiths said that splitting from Seat was important for brand value. "In terms of positioning it adds more to go with a separate brand," he said. "If we kept it in the Seat world there would always be compromises. We want to take it out of the Seat world to the race track. Most firms that have sporting brands take them out of heritage, like Abarth. But we want to look to the future
Opinion: Why Cupra split from Seat
Cupra models will be based on Seats – for the foreseeable future, at least – but with significantly higher performance, more customisation options and a separate sales channel. Only about one-fifth of Seat's dealer network will be awarded Cupra sub-franchises and models are set to be sold by specialists from Cupra-only areas.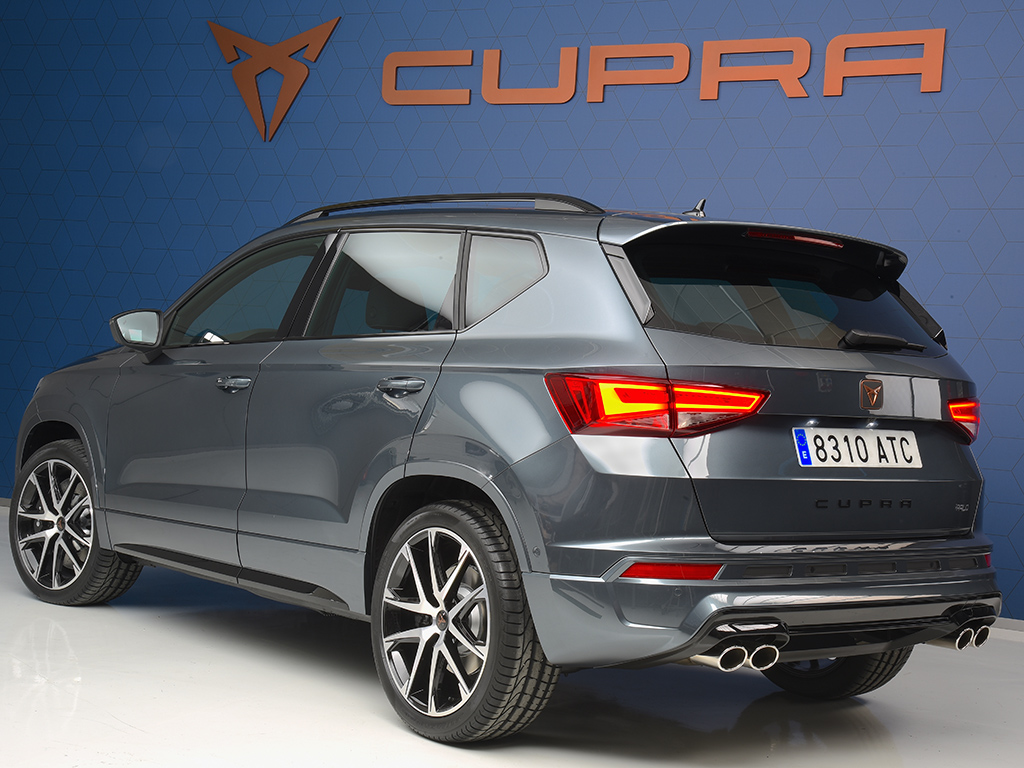 The Cupra plan according to R&D boss Matthias Rabe
Autocar first reported on the plans last year, when a draft of the new logo was shown in trademark filings. Seat boss Luca de Meo later admitted that Cupra would "add another dimension" to Seat's appeal.
"Cupra emerged not just as a business discussion," he said. "This is a declaration of love for motoring, in a society becoming a bit unfriendly to the sector."
The Cupra Ateca is powered by a 296bhp version of the Volkswagen Group's EA888 2.0-litre turbocharged engine, although the torque peak of 295lb ft is higher than that produced by the similar engine in the Leon Cupra 300. Drive passes through a seven-speed dual-clutch gearbox – there are no plans for a manual version – with torque diverted rearwards when required by a part-time Haldex all-wheel drive system. Cupra claims a 5.2sec 0-62mph time and a 153mph top speed.
Although its components are almost all familiar from other members of the VW Group's vast MQB-platform family, the Cupra Ateca is said to have been tuned to offer a substantially different driving experience from its Seat sibling.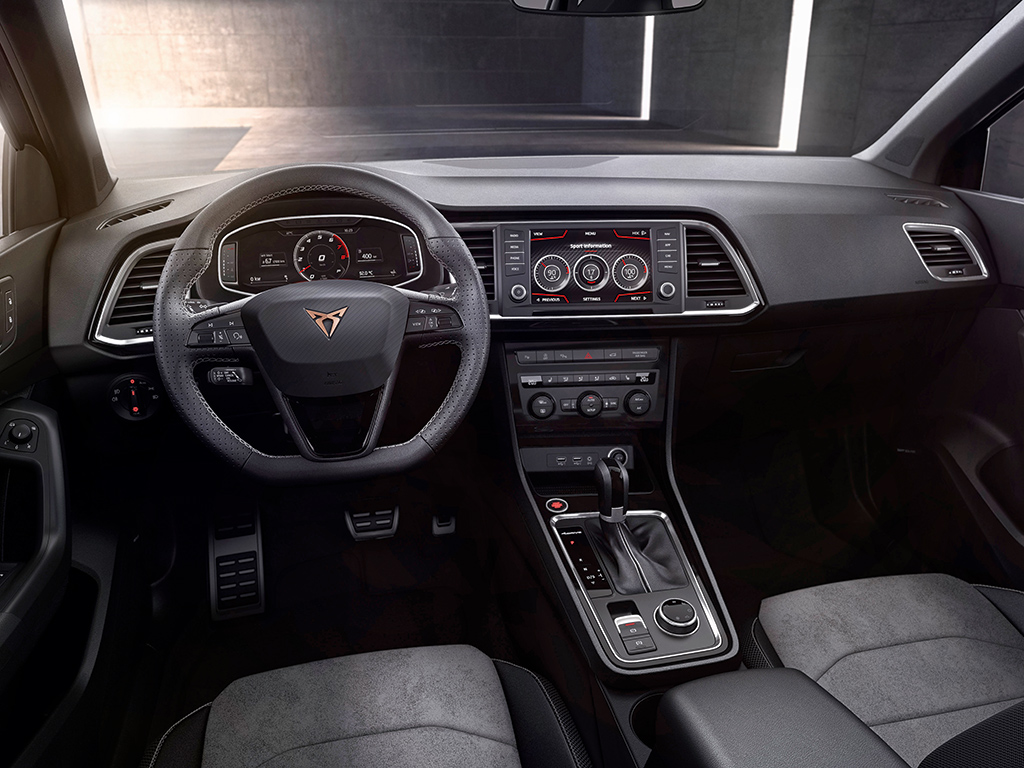 The suspension height has changed only fractionally, with the Cupra sitting 20mm lower than the regular car, but spring rates have been substantially revised and suspension settings are far firmer. Adaptive dampers will be standard, allowing for a far more aggressive set-up when using the 'Cupra' setting, which has been added to the Ateca's switchable driving modes.
Cupra sub-brand could get latest powertrain tech before Seat
The Cupra has also ditched the electronic sound symposer that normally augments engine noise in rortier MQB models. Standard brake discs will be 17in, but 18in Brembo units will be offered as an option.
Although badges have been changed from the Seat 'S' to Cupra's new triangular logo, the exterior design builds on that of the regular Ateca rather than transforming it. Bumpers are bulkier and there is a small wing at the top of the tailgate.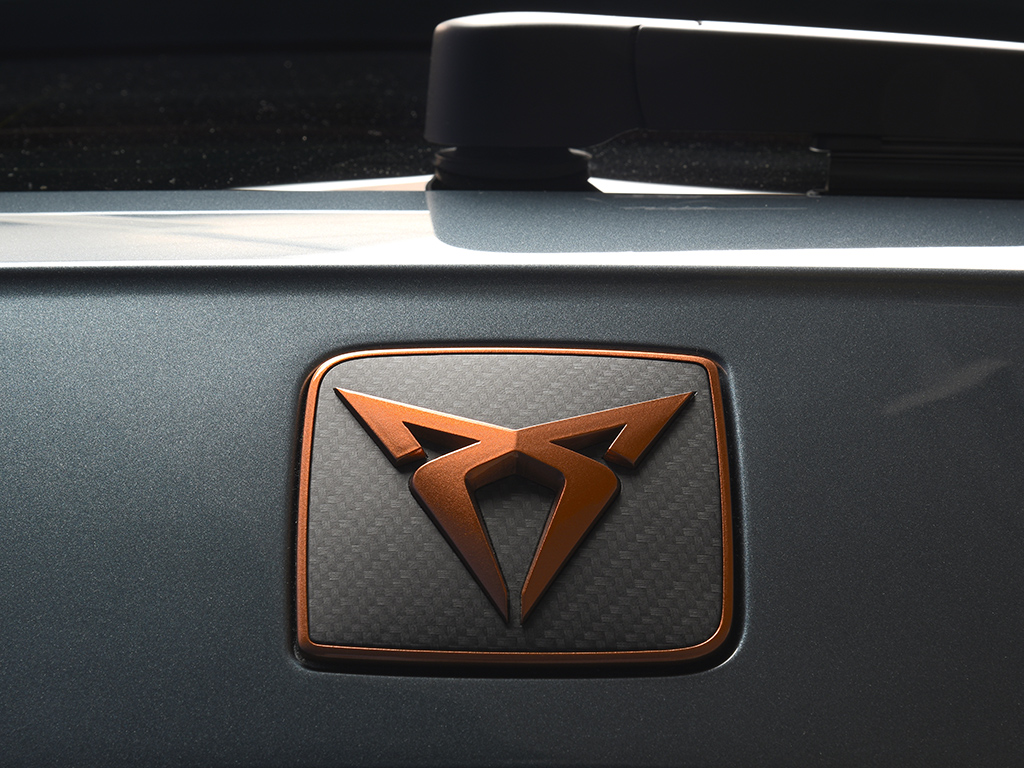 The Cupra gets 19in diamond-cut alloy wheels as standard plus the option of several unique colours. There will also be external and internal carbonfibre trim packages. The interior uses lots of Alcantara and incorporates plenty of copper details – Cupra's new corporate colour, a move away from the brasher orange with which the name was formerly associated. Other Cupra models will follow hard on the heels of this Ateca, with design concepts for Cupra versions of the Ibiza and Arona shown alongside it at the official launch. The company line is that these are to gauge reaction rather than indicate production intent and Seat's R&D boss, Matthias Rabe, has indicated that the Leon will be the next production version.
Rabe also confirmed that Cupra's birth as a brand will make it easier to produce limited-run models and higher performance variants in the manner of the Leon Cupra R. No new diesel Cupras are expected, but there will be Cupras that use forthcoming mild-hybrid powertrains.
Rabe said it's possible there will ultimately be a Cupra-only halo model, but there are no immediate plans for one. "In the first years, you will have derivatives," he said. "If you are talking about a very special car only for Cupra, I could imagine a sports car or a spider or something like that but, to be honest, we don't have that on the plan. It could be an aspiration for the longer term." Seat sold fewer than 10,000 Cupra models last year and the aim is for the stand-alone Cupra brand to double those volumes within five years – a modest ambition given what will soon be a multi-model line-up.
At the Cupra launch event, a new Seat …read more
Source:: Autocar
Share and Enjoy