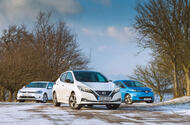 About 50bhp and £10k separate the Zoe and Leaf
Which is the best electric car you can buy for less than £30,000? We pit the second-generation Nissan Leaf against the e-Golf and Zoe to find out
We can assure you the irony of this opening gambit is not lost on us but, from the media attention Tesla receives, you might think it was the sole purveyor of electric cars.
Perhaps we shouldn't be too surprised. After all, when you have an outspoken, entrepreneurial polymath in the form of Elon Musk at the helm and your family saloon can reach 60mph faster than a Lamborghini, people are going to notice. Similarly, when you launch an example of your old whisper-quiet roadster into the silence of space, people are going to jabber. And if you can also promise nearly 400 miles of driving range between battery charges, they're going to queue around the block.
The kicker? Simple: a Model S saloon costs £80,000 and, while a smaller, more mainstream Model 3 with an asking price less than half that is incoming, production troubles in the US mean it won't cross the Atlantic until next year. Today we put Tesla to one side, then, and assess what the more accessible options might be for those who feel now might be time to kick the hydrocarbon habit.
Which brings us to the charging bays at a snowy Beaconsfield services, a sprawling autotropolis at junction two of the M40, with three electric cars you could buy tomorrow and would cost considerably less than a you-know-what. It is cold – hideously so – and during the 30-mile hop from Autocar's road-test base in south-west London our cars have somewhat worryingly shed 60 miles of indicated range. That's a bit of a reality check, straightaway.
In fact, with none of our three contenders benefiting from active thermal battery management to stave off the chill and so safeguard their independence, the timing for this test could only have been worse for the manufacturers involved if South Bucks had all of a sudden been hit by an electricity brownout. Such foul weather is, however, rather convenient for the rest of us because we get to judge these cars some way out of their respective comfort zones.
So, this new and British-built Nissan Leaf, which is the main reason we're here: is it a big deal? Yes, it's a watershed moment, potentially. For the second generation of the world's best-selling electric car, driving range has increased by half again, to 168 miles on the new, more representative WLTP test, with power up by an almost similarly encouraging proportion.
There's now 148bhp on offer, up from 107bhp, although it's the 236lb ft (an increase from 187lb ft) from a standstill that you'll rather more easily perceive. The car costs less than before too, with our well-equipped Tekna-grade model (Bose sound system, heated seats all-round and semi-autonomous driving functions) costing £27,490 after a £4500 government grant for plug-in cars.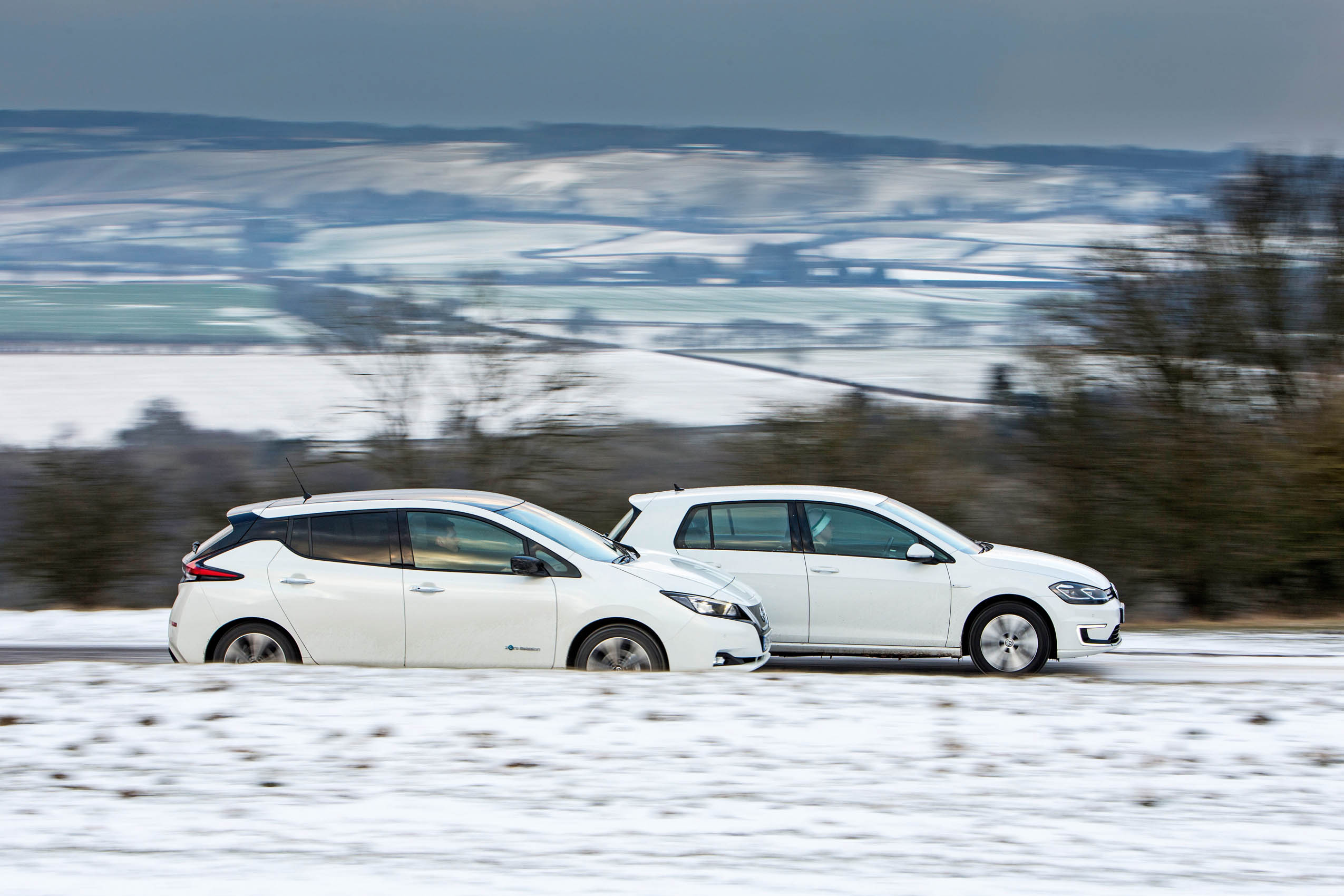 With that range especially, it's a convincing, more usable package than before and, while the curious proportions of the old model have not entirely faded, the 2018 car is undoubtedly sleeker and the dark accents on white paint lend it a hi-tech identity previously lacking. It still has a big bottom, mind.
Adjacent to the Leaf, also rapid-charging at a cost of 30 pence per kilowatt-hour, are Volkswagen's e-Golf and the Renault Zoe. They're key rivals that straddle the newcomer on price and, for want of a better word, premium-ness. The French car, with its comical tough-guy frown, is still cute as you like in Zircon Blue even five years after launching, and continues to strike the same-but-different aesthetic better than most.
It's cut out of the supermini cookie-mould, and we already know it sacrifices a little in refinement and practicality next to the others but counters that with a persuasive set of vital statistics.
Our sub-£20,000 test car (though you do pay £59 a month for battery rental) is a Q90 model. With 87bhp is a little less powerful than the R90 but in return is capable of charging on a 43kW rapid charger, as provided by the Ecotricity station to which we're currently cabled. That'll get it to 80% of a real-world range nudging 150 miles in just over an hour.
The Leaf, by comparison, takes just under an hour for a 80% top-up and the e-Golf takes around 45 minutes. However, being good for only 120 miles or so in real-world driving, the VW has the shortest, but most expensive, legs of the three.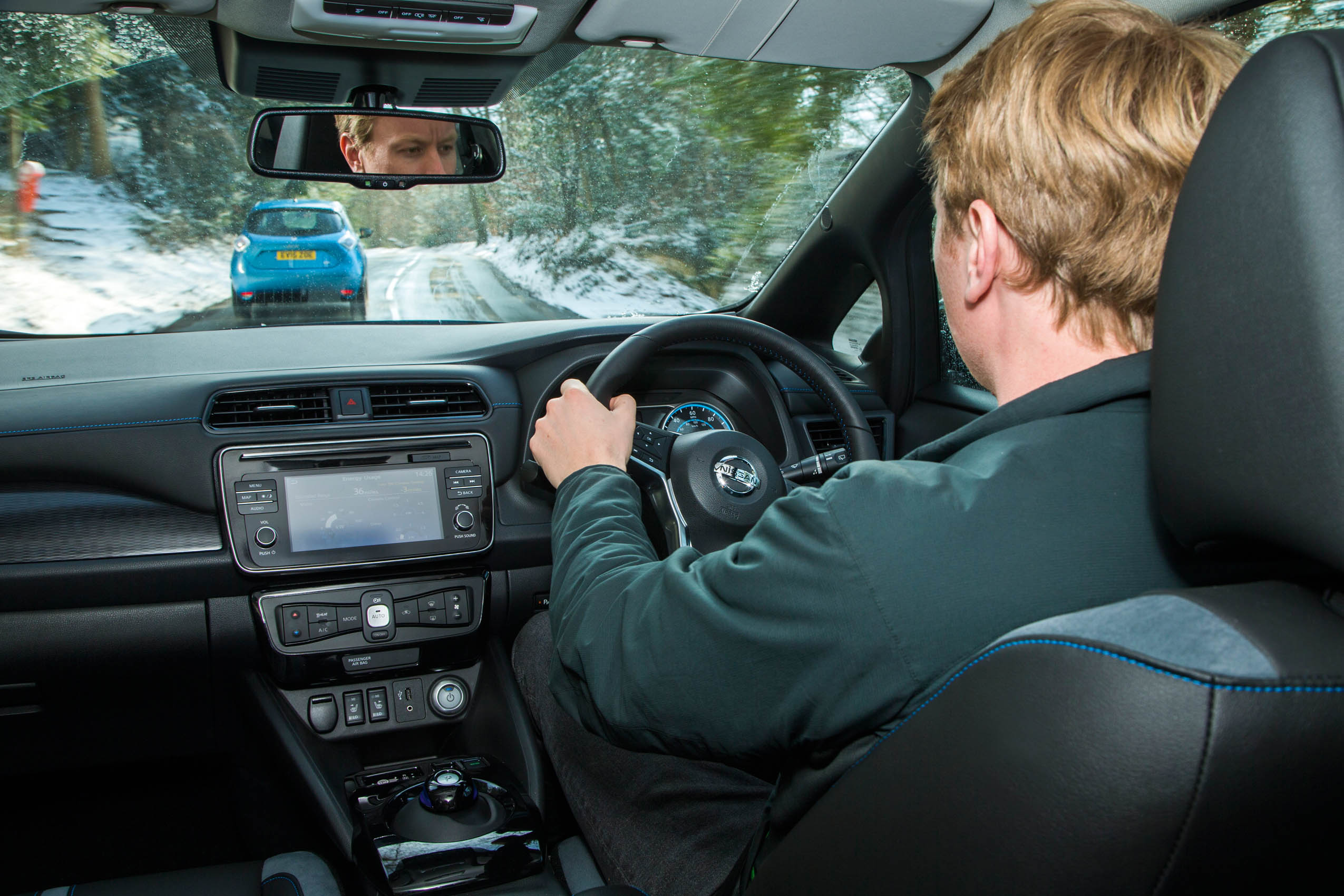 We'll not be here too long, then. In any case, 45 minutes is the maximum stay in the Ecotricity bays, and it's time enough for our test subjects to take on at least 100 miles of range. Most owners charge overnight, of course, and, using a wallbox at home, a full charge would have taken up to four hours for the Zoe, five hours for the e-Golf and seven-and-a-half hours for the Leaf. Is that more convenient than a twice-weekly fuel- station jaunt? One for you to decide.
Having driven the Zoe thus far, plumping for the Nissan on the next leg of our journey seems sensible. We're heading to a picturesque spot in the Chilterns that should be handy for photography if snapper Luc Lacey's fingers haven't already seized. Where the Zoe can feel a bit of a toy – something that plays to its advantage in built-up areas – the Leaf immediately feels like a car in which great distances would be of little concern were it outfitted with a combustion engine and fuel tank. Indeed, were it not for their zero-emissions powertrains, these two would never otherwise cross paths as rivals, and moving from a conventional family hatch to the Leaf would feel natural enough.
The interior in particular has a pleasant maturity to it, though the 7in touchscreen is of disappointingly low resolution and there's too much cheap plastic switchgear at this price point. …read more
Source:: Autocar
Share and Enjoy