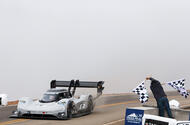 The electric Volkswagen ID R Pikes Peak has set a new outright hill record
Frenchman Romain Dumas has broken the sub-eight minutes barrier in his 671bhp EV racer, shattering Sebastien Loeb's record on the 12.42-mile hill climb
Romain Dumas has smashed the outright record for the Pikes Peak International Hill Climb in the electric Volkswagen ID R Pikes Peak.
The Volkswagen Motorsport team was targeting the electric record for the event, but Dumas's time of 7min 57.148secs on the 12.42-mill course eclipsed the overall mark of 8min 13.878secs, set by Sébastien Loeb in the Peugeot 208 T16 Pikes Peak in 2013.
Dumas averaged 90.538mph on the 156-turn course in the ID R Pikes Peak, which produces around 671bhp from two electric motors. The machine had been built for the project in just seven months.
Breaking the record is a major milestone for a full electric motorsport programme, representing the first time an EV has proven quick than a combustion engines machine on a major event.
The event does suit battery-powered electric cars because, unlike international combustion engines, they don't lost power at altitude. The finish line of Pikes Peak is 14,115ft above sea level.
More updates to follow.
Source:: Autocar
Share and Enjoy