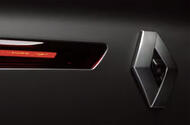 New D-segment saloon will be Renault Laguna's replacement in Europe, but it won't be coming to the UK
The Renault Laguna replacement will be dubbed Talisman, the French manufacturer has revealed, but the new car won't be coming to the UK.
Already spotted testing in Europe, the Talisman is expected to go on sale in 2016. Design cues around the front end echo those of the next-generation Renault Megane, which is also due to arrive in 2016, while the Talisman's overall shape is similar to traditional saloons like the Mazda 6 and Volkswagen Passat.
Renault says the Talisman …read more
Source:: Autocar
Share and Enjoy