We run down the very best electric city cars, superminis, hatchbacks, saloons, crossovers and SUVs on sale in Britain today
Electric cars are more popular today than they have ever been. And why wouldn't they be?
An electric vehicle (EV) lets you travel in silence and produces zero emissions. You don't have to pay road tax, London dwellers don't need to worry about the Congestion Charge, and the government will even give you a grant to buy one. As the range between top-ups increases and the charging infrastructure improves, an EV is already a viable alternative to petrol- or diesel-fuelled models for a significant portion of British drivers.
However, the EV market is still very much in its infancy, and the level of choice is limited. That makes it difficult to compare like for like, with city-friendly superminis having to share a page with luxury saloons and SUVs.
This list runs down our favourite electric cars in alphabetical order, considering factors such as range, practicality, driving dynamics and price.
With the exception of Tesla and Jaguar, no other EV maker can match the i3 for premium desirability. As a strict four-seater with a relatively small boot, it's not as practical as other electric hatchbacks, but the innovative styling makes the BMW stand out in ways cheaper rivals simply don't. With the range-extender version now officially retired, this funky compact EV is pure-electric only, with a new 42.2kWh battery due in early 2019 set to address range shortcomings. It's also available in more spirited i3 S guise, with larger wheels, a lower ride height and an even more engaging drive – an achievement given the standard i3 was already the best driver's car in its class.
Available as a petrol-electric hybrid and plug-in hybrid as well as a pure-electric model, Hyundai's Ioniq is nothing if not flexible. The EV version is slightly simpler, losing the independent multi-link suspension of its range-mates to make room for a 28kWh battery back. Real-world range is in the region of 120 miles, and although it isn't the most engaging steer, it's practical and good value, especially if you expect to make frequent use of the boot and rear seats.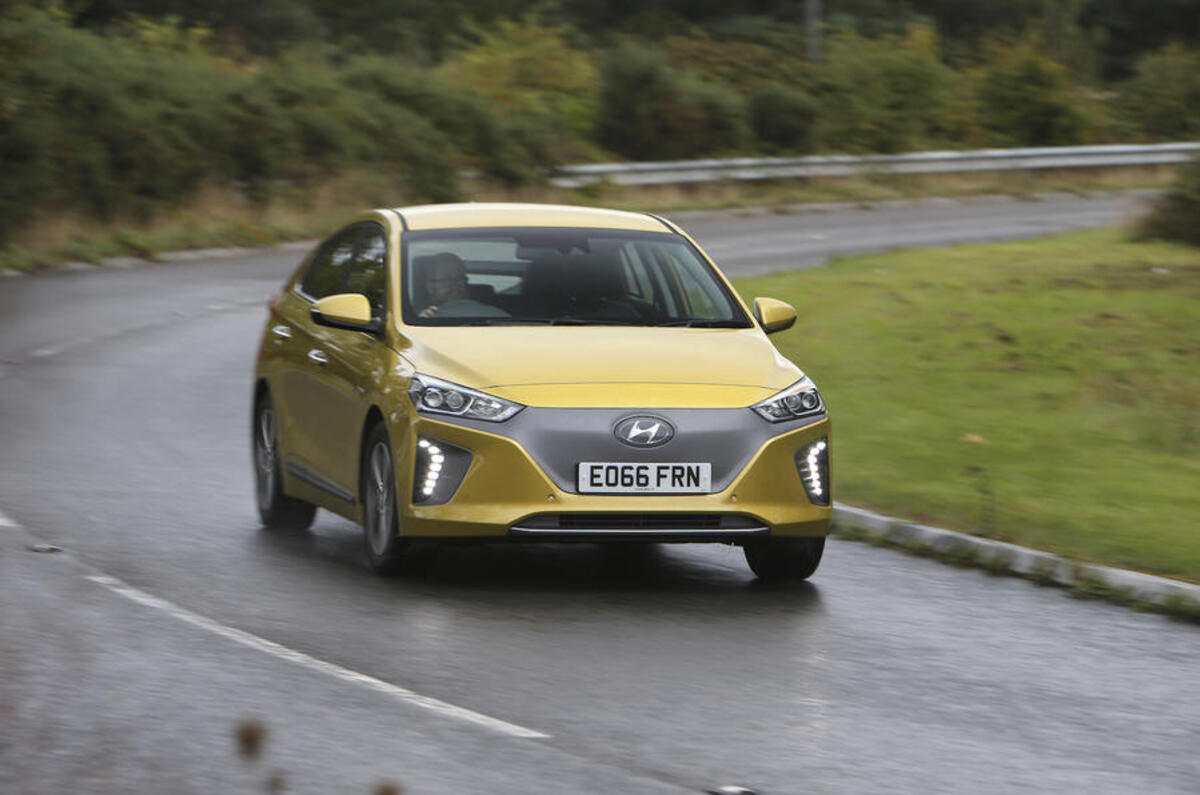 As the first sub-£30,000 car to regularly manage 300 miles of electric range, the Kona 64kWh has made a big impact on the EV market. It has the accelerative performance to put other affordable electric cars to shame and can even live with the pace of some hot hatchbacks. The crossover bodystyle can't match the practicality of a family hatchback, and the ride is compromised by its weight, but with more than 250 miles of motorway driving between charges, Kona Electric drivers shouldn't have to concern themselves with range anxiety.
The first luxury electric car from a mainstream manufacturer to directly challenge Tesla at the high end, the I-Pace delivers on its brief with exceptional interior quality and a striking design that's slightly more SUV than saloon. The lack of 100kW chargers dents its potential as a long-range tourer (although that will improve over time as infrastructure grows) and infotainment could be better, but it sets the standard for EV handling, and delivers ample performance from its twin 197bhp motors.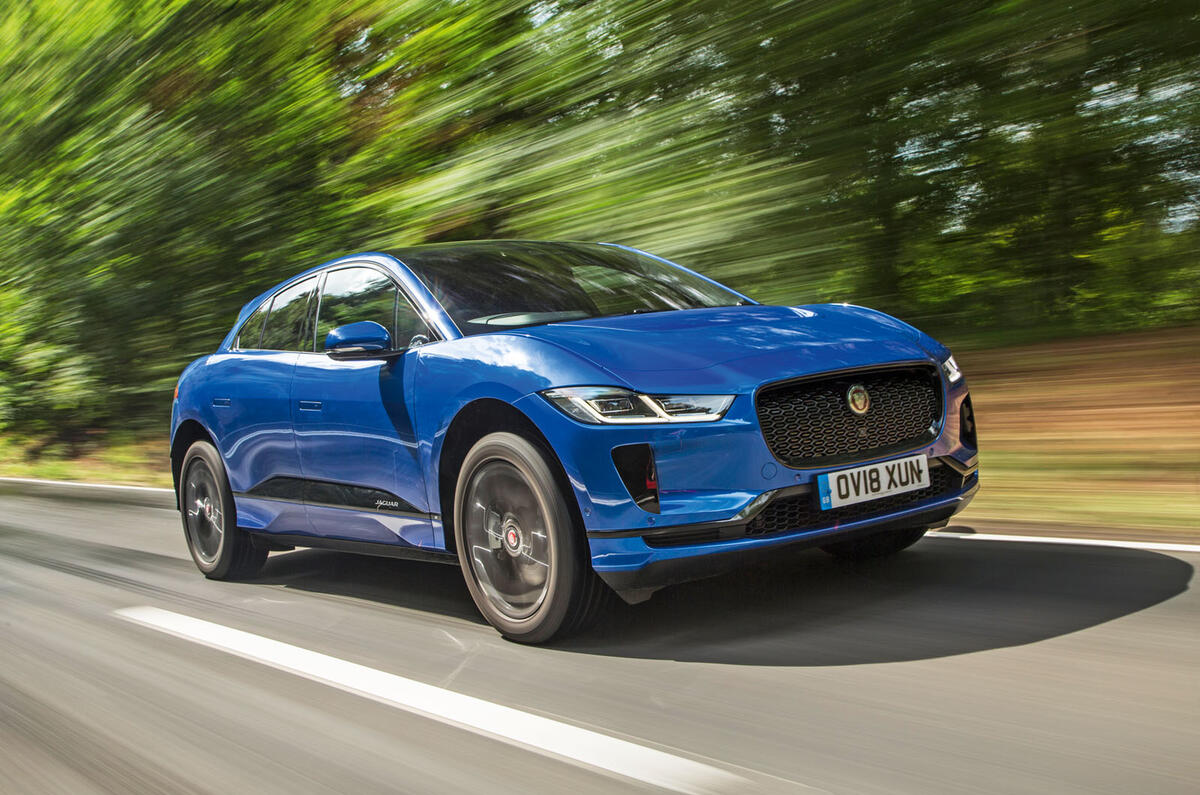 When it first arrived, the Leaf showed what affordable electric cars were capable of. Now in second-generation guise, it has received a 25% boost in battery capacity, for a WLTP-certified 168-mile range. Increases in power and torque over its predecessor help it feel more engaging to drive, and it is practical enough for small families to use as their main mode of transport. With the government plug-in car grant bringing the price down to that of mid-market conventional hatchbacks, it looks like even better value.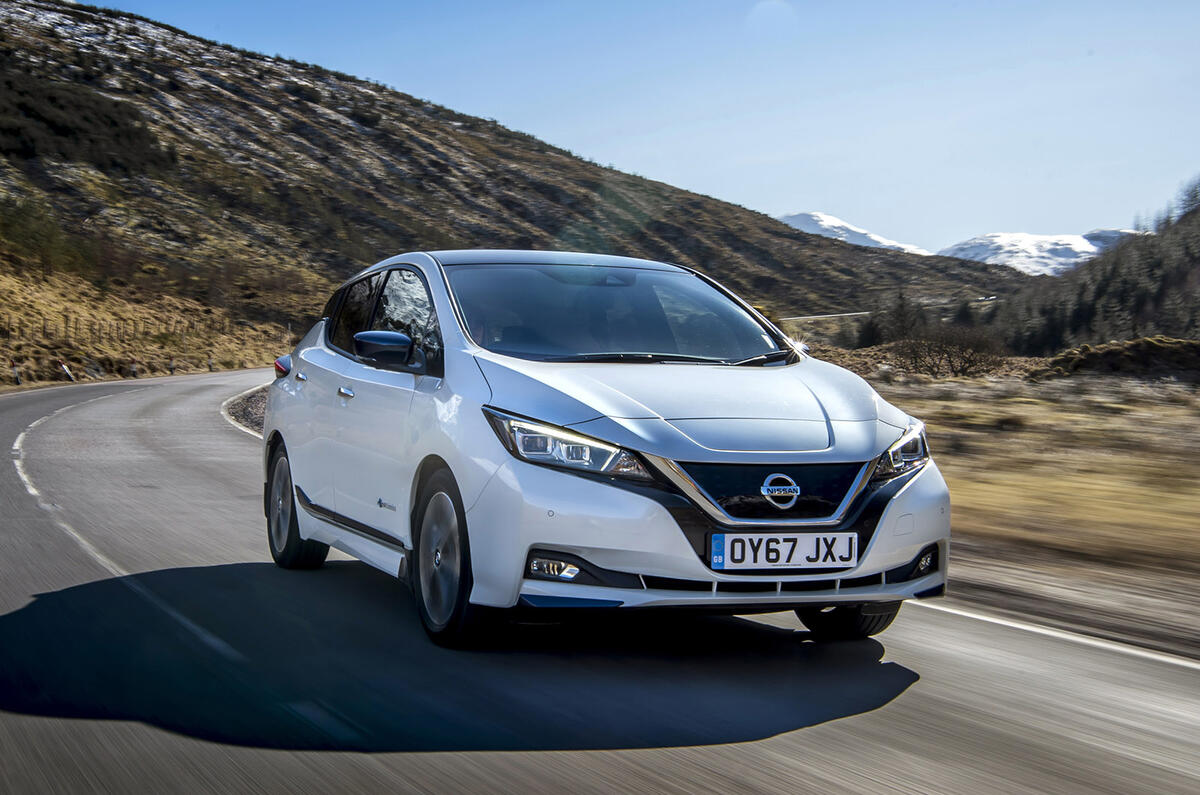 More microcar than city car, Renault's smallest EV is even shorter than a Smart Fortwo, and six inches narrower. The 1+1 seating layout and central driving position are bike-like, and doors are optional, but a large motorcycle might actually have more storage space. Neither speed nor range are strong points, the 6.1kWh battery pack managing 43 miles between charges and taking a leisurely 8.4sec to get to 30mph with a passenger in the rear. Still, for commuters with short journeys (and a warm winter wardrobe) the Twizy is an inexpensive electric alternative to public transport.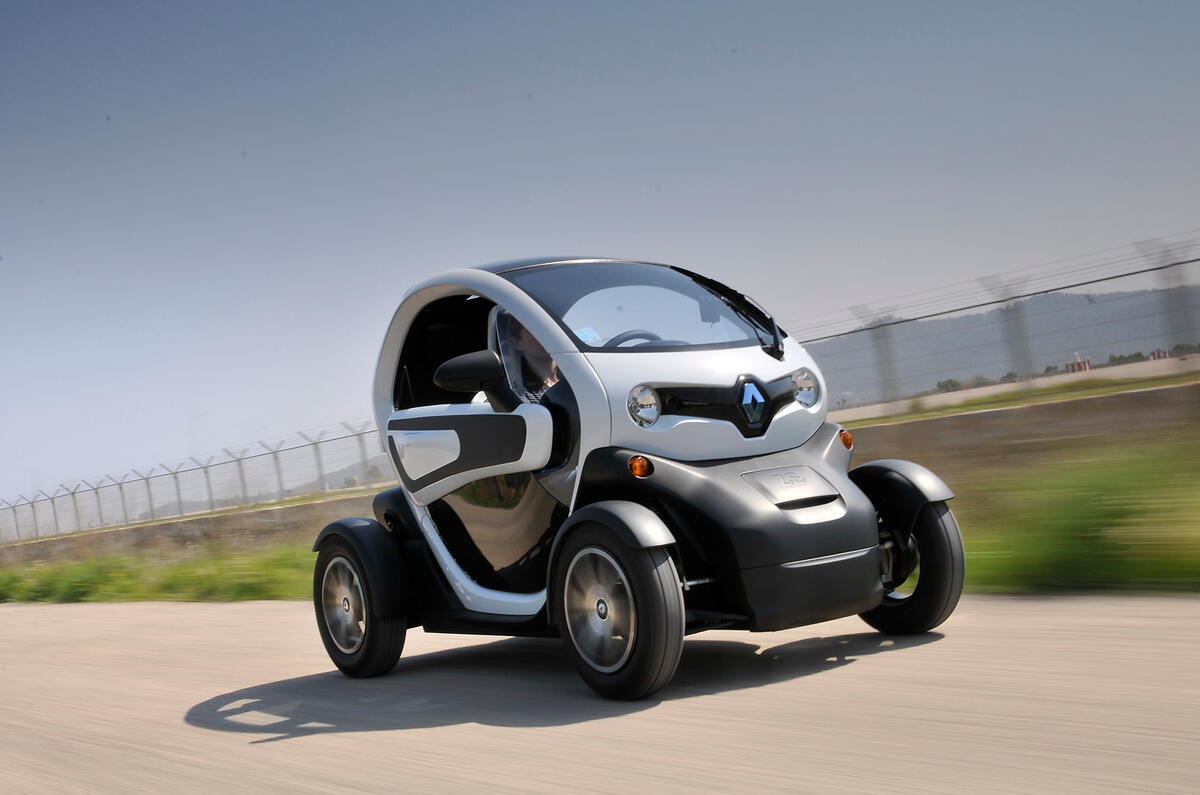 As an entry-point to electric car ownership, the Zoe was already an appealing alternative to a conventional supermini – even if its limited real-world range made it impractical for anything other than short hops. That changed following a mid-life facelift, which delivered a larger, 41kWh battery capable of 150 miles of real-world use. Battery lease options make ownership more affordable, and the price includes a fast-charge port installation for your home.
Arguably the car that persuaded the world that electric motoring was a feasible replacement for combustion-engined travel at all levels, not just the most affordable. In its most potent form, the Model S can accelerate with the ferocity of a super-saloon, and all models have a futuristic-feeling cabin topped off by a mammoth touchscreen infotainment system. Tesla's supercharger network also enables long-range driving.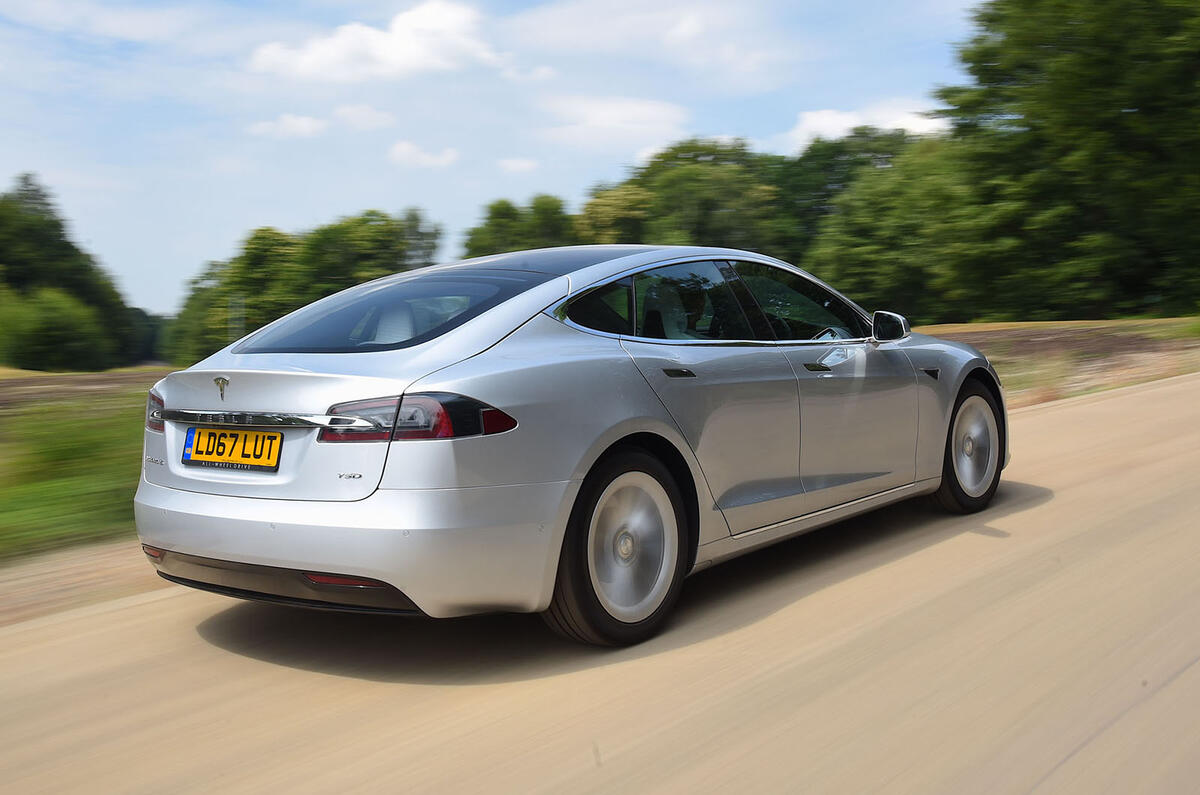 Although we have yet to drive it in the UK, and Tesla has yet to confirm a price in British pounds, the company's most affordable electric car is still worthy of inclusion on this list. It isn't the perfect car but it handles well despite the weight associated with its electric powertrain, and the dominant touchscreen infotainment system that eschews physical buttons almost altogether is an early look at one possible motoring future. A genuine BMW 3 Series rival that runs on electricity, if one that's not quite as …read more
Source:: Autocar
Share and Enjoy