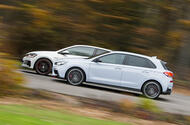 Our long-term test fleet's two white-hot hatches go head to head to see whether Volkswagen still makes the best all-rounder or Hyundai has topped it at its first attempt
Hot hatchbacks are a regular sight on the Autocar long-term test fleet. There's little else that can balance power, practicality and cost as well as the humble family car once a manufacturer has given it a performance-minded overhaul, and we love them for it.
The category is dominated by familiar makes and models, though, so it's rare we get the opportunity to run a manufacturer's first attempt at a hot hatch. But that's exactly what happened when we took delivery of a Hyundai i30 N to our test fleet at the beginning of the year, not long after it had earned an admirable three and a half stars in an Autocar road test.
Better yet, it arrived while we were running the latest version of the car that first popularised hot hatches back in 1976. The Volkswagen Golf GTI is a consummate all-rounder and as compelling here in its seventh generation as it has ever been.
The big question, then, is whether Hyundai has managed to best Volkswagen at its own game at the first attempt of trying or the GTI is still the car you'd want to live with. This naturally caused great debate in the office, so we've left it to news editor and i30 N minder Rachel Burgess and Golf GTI-running editor Mark Tisshaw to argue it out.
RB: Do you reckon the GTI still rules the hot hatch roost, then?
MT: Now there's an opener… The GTI is unique, not in the clichéd sense, but because nothing else has really replicated its formula, the i30 N included. You'd be mad to launch a new hot hatch with the GTI's low power figure, but its appeal has always been in its all-round usability.
RB: I've always had a soft spot for the GTI. Still, the arrival of a new hot hatch is rare, so it's been great to have a few months to really get to grips with the i30 N. It isn't as well-rounded as the GTI, granted, but that very reason sometimes means it's more exciting.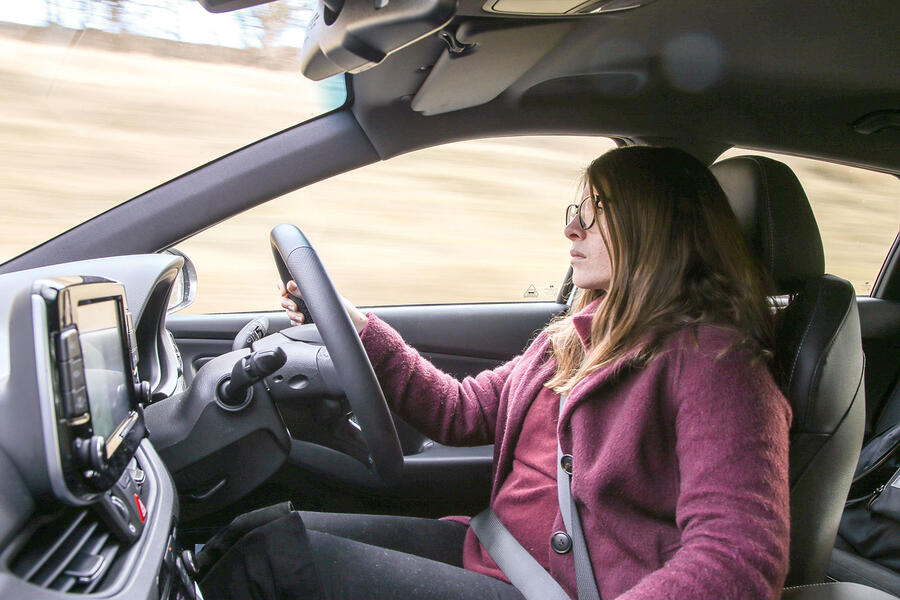 MT: What's best about the i30 N is its chassis. It's clear where the development budget has gone, which is the right place to spend it on a hot hatch. It feels a bit like the previous Honda Civic Type R to that end: fast and focused, but with a bit of explaining to do as a daily driver.
RB: The chassis is probably one of the biggest criticisms the car's received, in terms of its overly harsh ride. And when I jumped back in the i30 N having spent some time in the GTI, I can't argue there was a stark difference. The many speed bumps in my suburban road were felt quite a lot more. But, actually, once you're accustomed to it, it's a very usable daily car.
MT: I wonder if in part that harsher ride also comes from its heavier weight. You really notice the extra weight in the i30 N, and that's why its extra power is needed. When you're up to speed, the GTI feels the faster car because it's more agile. At our handling day last year, the GTI only gave away 0.3sec to the i30 N over a lap at Castle Combe – a fast track where power tends to have more of an advantage. Which shows just how quick the GTI is when you look beyond the headline figures.
RB: Most people love to pigeonhole cars, typically by performance, and in performance and headline figures terms the GTI ranks bottom. It gives away loads of power. Yet the power it has is so usable. It just feels like the right amount for a car of its size and weight.
MT: I know you've wished for a bit more low-end torque in the i30 N, but for me, that was a real strength of the car. It's a very strong engine, very tractable, and feels a performance level up from the GTI.
RB: The torque in the GTI is definitely more linear than the i30 N. While I'd like a little more shove at a roundabout in the Hyundai, the mid-rev-range acceleration is actually more surprising and exciting for that very reason. Getting it up to motorway speeds from a slip road is real fun, especially with that distinctive exhaust note, which is much punchy than the GTI's.
MT: I'd agree that the i30 N sounds much more like a hot hatch should.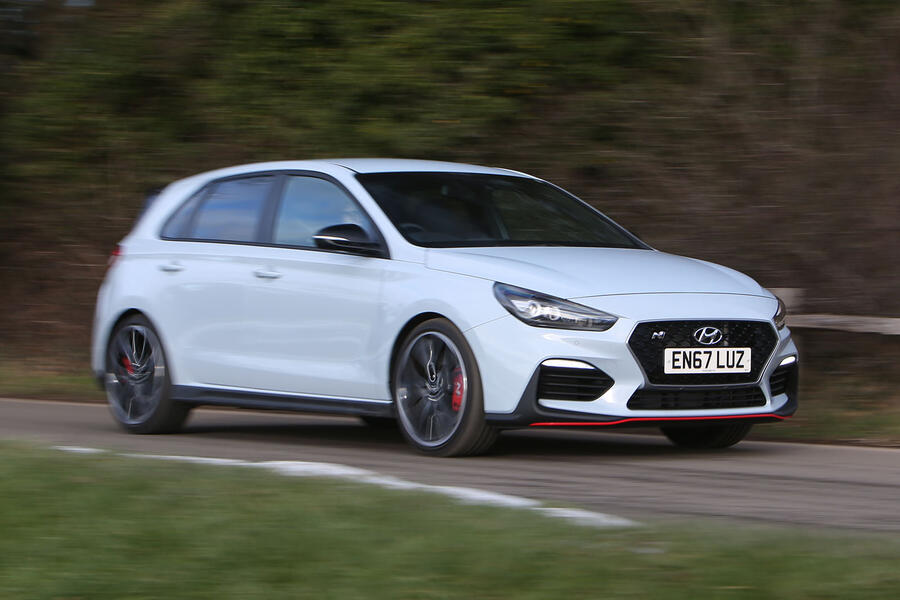 RB: I also much prefer the gearchanges in the i30 N. I can't deny that the GTI's are smooth and the longer ratio in first is better. But the i30 N has accurate, swift changes that are incredibly satisfying in this type of car.
MT: Which again shows where Hyundai has spent the budget – on the 'hot' part of the hot hatch formula. For me, a good example of the differences between the two cars is how the steering wheel feels in your hands. The GTI's just nestles in your palms and is a lovely grippy material, while the i30 N's seems somewhat cheap. There's not much to tell an N from any other i30 inside, too, which is a shame when the GTI nails it over a standard Golf with those seats and that gearknob.
RB: It's true – the GTI stands out far more than the i30 N inside. The cabin differences between the two hot hatches were what I noticed first. The GTI has manual seat movements, the i30 N automatic; the GTI has a traditional key start, the i30 N a keyless start. Where Volkswagen has respected the GTI's heritage with its interior, the new i30 N has instead opted for convenience. The i30 N is nevertheless the clear winner in one important aspect: its good old-fashioned manual handbrake …read more
Source:: Autocar
Share and Enjoy